The 14th Global Congress on Process Safety (GCPS) was held on April 22-26, 2018 in Orlando, FL.  The venue was the conference center at the Orlando World Center Marriott, and it was beautiful.
[Editor's note:  This post is coming out later than I intended.  Between the CCPS conference and a business trip to California, I crisscrossed the country last week.  Upon my return, my wife and son had birthdays this weekend.  All good stuff, but it did not leave much time for blogging!]
The GCPS was just one of more than 10 "sub-conferences" and smaller forums that are part of the AIChE Spring Meeting.  I don't have exact numbers, but I would estimate about 3000 people in attendance, so it is the largest technical conference I have been to in years.  The conference also includes an exposition, which was well attended by major vendors, including automation vendors, engineering shops, and SIS specialty companies.
Some photos to capture the feel of the conference: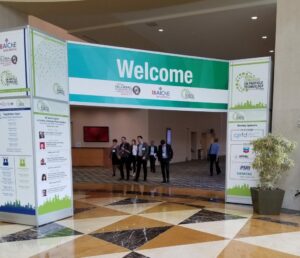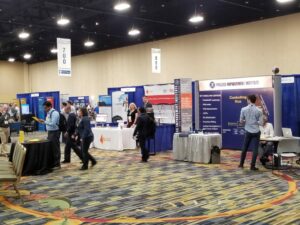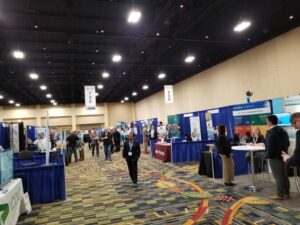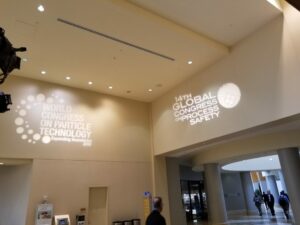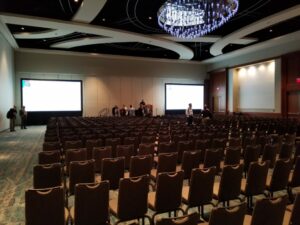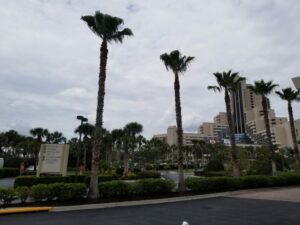 My visit was unfortunately limited to just two days due to other business obligations, but I wanted to share some of the highlights of my experience.
Relief Valve Reliability
Dr. Julia Bukowski shared her latest research in her ongoing 10-year study of relief valve reliability.  The paper, entitled "Analysis of Spring Operated Pressure Relief Valve Proof Test Data: Findings and Implications", expands on and confirms her previous work using a new data set from a nuclear facility.  A sampling of her previous work in this area is linked below:
Of course, another important reference on this topic is the CCPS Guidelines for Pressure Relief and Effluent Handling Systems
My Take:  I was primed for this presentation because I have been reading her work recently while grappling with the question of "How reliable are relief valves, really?".  Among the questions that had come up in my research were:
How to define failure? (e.g. leakage vs. fail-to-open, overpressure %, vessel rupture, etc.)
What are the failure mechanisms?
What is the useful life?
Dr. Bukowski's results should be a wakeup call to the folks that claim relief valves "never fail", and we should just follow ASME and shut up about risk reduction and functional safety.  Her concept of Probability of Initial Failure (PIF) illustrates a conundrum in relief valve management:  systematic issues cause early failures, but increasing proof testing frequency may actually increase these systematic risks.  Another eye-opener from the paper is the useful life (i.e. constant failure rate region) of relief valves is only 4-5 years.  These papers offer much to think about.
Cyber Security Education
Dave Teumim (author of Industrial Network Security) hosted a panel discussion with Dr. Hoda Mehrpouyan (Boise State University) and Danielle Santos (NIST NICE) to discuss cyber security education in the chemical process industries.  Their presentations covered the establishment of a new I&CS cyber security laboratory at Boise State and various educational initiatives sponsored through NIST.  This was followed by a lively discussion where the speakers took questions from the room.  Some interesting highlights:
My Take:  It is always encouraging to see universities take an interest in tackling practical industry problems.  The new lab at Boise State includes actual industrial controllers (HW C300) in a typical network setup based on the Purdue model.  They even have some SIS (HW Safety Manager)!  My constructive criticism is that a sizable portion of existing industrial infrastructure is still using controllers from the 1990's, 1980's, and yes, even the 1970's.  (I have run into 1960's controllers in my career, but I think they are mostly gone now.  DEC PDP8, anyone?)  Who is studying cybersecurity for these legacy systems?
Big Data Analytics
This post is getting a little long, so I will just briefly mention that I also attended a couple of interesting presentation in the area of big data analytics.  I think there are opportunities to apply these techniques toward automatic SIS data collection and analysis.  Perhaps the topic of a future post?
Bayesian Analysis
It was also encouraging to see several papers touching on Bayesian analysis, although these still tend to be coming from academic sources rather than industry authors.  A few examples:
Now available! I have posted my own conference paper "A Hierarchical Bayesian Approach to IEC 61511 Prior Use" on this site.